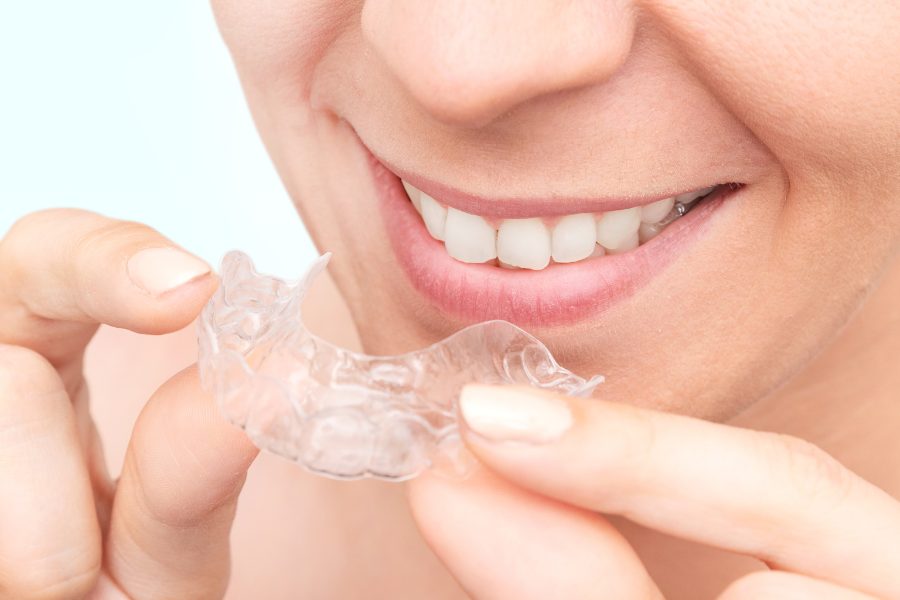 OUR SERVICES
Invisalign® in Calgary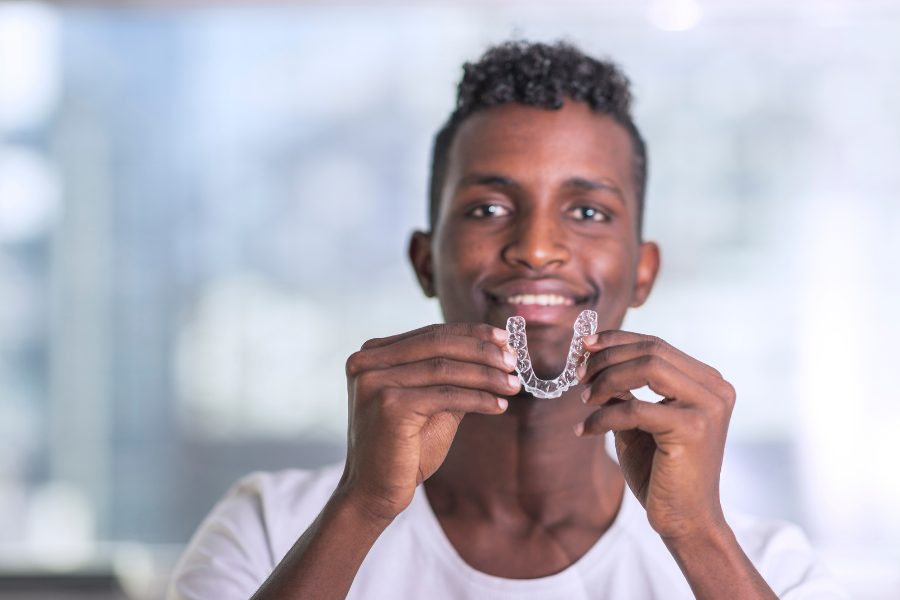 Want a better smile but don't want the hassle and cost of braces? We offer Invisalign and might be the solution you're looking for!
Invisalign uses clear aligners to straighten teeth by moving them gradually over time. In this way, they function like braces, but unlike braces, they are practically invisible.
Treatable Cases
Invisalign is a viable treatment plan for a variety of ages and dental cases. With this treatment, teens and adults alike can carry on with their daily routine without the shame of metal braces. Invisalign treats bite problems, gapped teeth, crowded teeth, and general alignment issues with your smile.
What is the Clear Aligner Technology?
Braces work with metal or ceramic brackets that are glued individually to the teeth. The brackets are connected to an archwire with elastic O-rings, putting pressure on the teeth and jawline to move them into the desired position. The archwire is adjusted periodically as needed.
Invisalign and other clear aligners, on the other hand, uses a series of custom-made clear aligners to adjust crooked teeth using gentle, consistent force to reposition them. The Invisalign clear aligners are very precise, allowing for predictable, controlled movement of the teeth, as well as faster treatment.
You will begin with a consultation with your aligner-trained dental professional who will evaluate your smile and oral health, allowing them to map out a custom treatment plan. Once this is done, your aligners will be created.
The clear aligners will be worn for about 20 to 22 hours each day, removed for eating and certain other activities. Each set of clear aligners will be changed after one or two weeks, according to your treatment plan.
How it Works
Once we decide to move forward with the Invisalign process, our team will show you a digitized version of your perfect smile so you know what to expect. We will then capture a 3D image of your teeth to develop your custom aligners. The aligners will then be trimmed and checked for quality. Once we begin the process, you will wear each retainer for about two weeks. Minimal appointments will be required, as we send multiple retainers with you at once. You will be able to track the improvement of your smile with each step!
What to Expect From Orthodontic Treatment
More than anything else, you can expect your clear aligners to provide you with a new, beautiful smile. If you are more familiar with traditional braces, you may be unaware of the advantages offered by clear aligners. Aside from the fact that the clear aligners are essentially invisible, they offer the following benefits:
Greater Comfort
Traditional braces can be irritating to the mouth, but Invisalign is similar to wearing a mouthguard. There are no sharp edges or wires to cause irritation.

Convenience
Invisalign and other clear aligners are common enough to be widely available. Their use also requires fewer office visits, as you will be sent home with a series of trays, rather than having to make appointments to adjust an archwire, as is required with braces.

Removable
Clear aligners can be removed when you are eating, brushing, and flossing. This can make oral hygiene easier, promoting greater oral health.

Simple Maintenance
Braces may trap food particles but removing your Invisalign aligners to eat means that this will not be a problem. The clear aligners can be cleaned easily by brushing gently with toothpaste and warm water.

Faster Treatment
While this will vary according to the treatment needs of the individual, clear aligners typically offers faster results than braces.
Orthodontic Treatment for Straighter Teeth at Any Age
Do you avoid smiling for photos, speaking up in public, or even eating in public because you are self-conscious about your teeth? Do you suffer jaw pain, uneven wear, or trouble cleaning and flossing your teeth? If this suits you, it might be time to consider orthodontic treatment.
Orthodontic treatment is becoming increasingly popular among adults, both for cosmetic reasons and to improve their oral health. And, with discreet treatment alternatives at their use, they're realizing that they can do it on their own terms!
Your orthodontist will review the advantages and disadvantages of your orthodontic treatment options with you and assist you in deciding which one best suits your oral health needs and lifestyle.
Can Adults Undergo Orthodontic Treatment?
If you're an adult, it's not too late to use clear aligners or Invisalign to fix dental issues including crooked or crowded teeth, overbites, underbites, inappropriate jaw posture, or jaw-joint diseases.