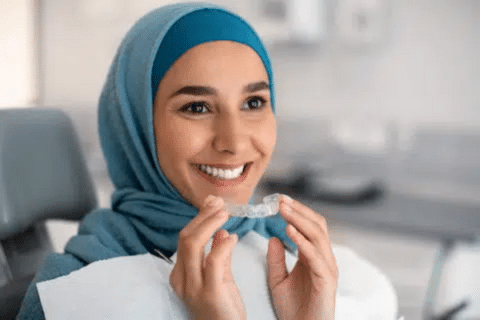 Here at Kherani Dental at Aspen, we are committed to helping our patients find and achieve their dream smiles.
By utilizing the latest cosmetic dentistry techniques and modern dental technology, we have already helped thousands of people to obtain brighter, whiter, and more natural looking smiles.
One of the ways we continue to achieve these results for our patients is by providing a full range of cosmetic dentistry solutions for every budget.
Porcelain veneers are one such cosmetic dentistry solution that provide a fast and highly cost-effective cosmetic solution to damaged or misshapen teeth.
Veneers fit directly onto your existing tooth or teeth and form an entirely cosmetic solution, improving the look and feel of your tooth.
Depending on the condition of the tooth, veneers may or may not be an option. If the tooth is not healthy enough to sustain and support a veneer, then your dentist will likely recommend a dental crown as an alternative. However, if the tooth is healthy then a simple veneer can help to give it a completely new shape and look that better fits your existing smile.
Advantage #1 – Cost-Effective Cosmetic Dental Treatment
At Kherani Dental at Aspen, we like to recommend dental veneers as a cost-effective way to enhance your smile.
If you have a misshapen, chipped, or damaged tooth that is otherwise healthy, a simple dental veneer can be an easy way to improve the look of your smile.
Advantage #2 – Dental Veneers Are A Fast Way To Straighten Your Teeth
As well as being cheaper, there are also many applications for dental veneers, and patients can benefit from them in a number of ways including to repair damaged teeth or even to make your existing teeth appear straighter.
Dental veneers are often used in patients who are looking for a fast way to achieve the appearance of straighter teeth.
When your dentist is fitting you for dental veneers, they will ensure that the veneer that is being attached to your tooth fits optimally and cosmetically with the rest of your smile, giving your smile a whole new look.
In fact, dental veneers can be fitted in just a few short visits!
Advantage #3 – Dental Veneers Don't Get Cavities
Dental veneers are made from porcelain and are cavity resistant, giving your teeth a strong protective surface.
While porcelain itself is a strong substance that doesn't decay easily, it is important to remember that the tooth underneath it can sometimes still be exposed to bacteria that cause decay. Maintaining great overall dental health and hygiene is still highly recommended.
Porcelain is also stain-resistant too, which means that you will be able to look forward to a whiter smile for years to come.
Want More Information On Porcelain Veneers?
For more information on how porcelain veneers can help improve your smile, call us at (403) 263-0055 or click here for more details.