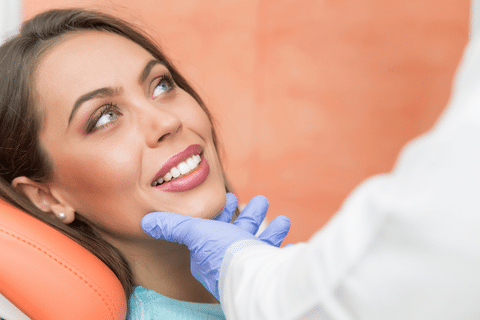 There is no denying that COVID has disrupted almost every Canadian's life in a variety of ways, some big, some small. Working at home, attending classes online, and closures of many businesses, have become rather common, but what happens when one needs other services?
Many dental patients have been left wondering if it is safe to visit the dentist for a checkup. What about orthodontist appointments? Perhaps you were due to get braces this year. Should you still get braces during COVID?
If you or your child were due to get braces fitted, it's understandable to be concerned about proceeding with your original plan of action. You may even have assumed that it is not possible due to the ongoing pandemic, but you need not worry. At Aspen Dental, we are still open for all types of care, including braces.
If you were not yet committed to braces and had intended to make an appointment to discuss your options, you can make use of our Virtual Care from the comfort of your home. All you need to do is pick up the phone and give us a call. One of our consultants can help you out and arrange for a virtual meeting with an Aspen Dental doctor. You will still receive the same expert care that you can expect during an in-person visit and all your options will be laid out in a clear, comprehensive manner.
If you choose to proceed with getting your braces at this time, you can rest assured that every possible step is being taken to keep you safe. Although we have always maintained stringent safety standards, we have gone to the next level with sterilization of equipment and the cleaning of all surfaces in our treatment rooms between patients. Every team member is outfitted with appropriate Personal Protective Equipment (PPE), even at the front desk. We also conduct daily wellness checks on our care teams and screen all patients prior to care. This includes a temperature check and symptom screening. All this combines to provide you with peace of mind knowing that you are being treated in a clean and safe environment.
Once you have your new braces, we remain available to you through our Virtual Care to assist with any questions or needs that arise. We can offer advice on how to handle issues such as lost wires or ligatures, mouth sores and irritation, or brackets that come loose. Of course, in the event of an emergency, we will continue to be available to you for an in-office visit.
COVID has had a significant impact on all our lives and necessitated many changes, but one thing that will never change is Aspen Dental's care and commitment to you. Ready to book an appointment? Give a click and we'll see you soon!
To make an appointment at Kherani Dental at Aspen, please call us at (403) 263-0055