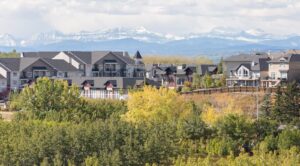 Aspen Woods is known for its luxurious homes, stunning natural surroundings, and upscale amenities. The neighborhood is situated close to several major shopping centers, restaurants, and recreational facilities, making it an ideal location for young professionals and families alike.
Aspen Woods is a popular choice for families due to its excellent schools and safe, family-friendly atmosphere. The neighborhood is home to several excellent schools, including the prestigious Webber Academy, making it an ideal location for families with school-aged children. In addition, the neighborhood boasts several parks and playgrounds, providing ample opportunities for outdoor recreation and relaxation.
People are drawn to Aspen Woods for its luxurious homes, upscale amenities, and easy access to downtown Calgary. The neighborhood is situated close to several major transit routes, making it easy to get to work or downtown Calgary. With its stunning natural surroundings, excellent amenities, and strong sense of community spirit, Aspen Woods is an ideal location for anyone looking to live the high life.
Want to learn more about Calgary? Check out Beltline, another beautiful neighborhood in the area.
About Kherani Dental
Kherani Dental at Aspen provides comprehensive dental services in a modern, enjoyable atmosphere. We blend art with dentistry to create radiant smiles for the people of Calgary. If you're looking for a dentist you can trust for the whole family, contact us today to learn about our Calgary dental services.
Aspen Woods Information
Elevation: 4,035′
Population: 5,271 (2012)
Established: 2001
Province: Alberta
Quadrant: SW