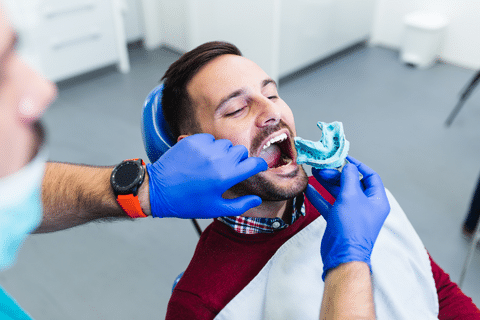 At Kherani Dental at Aspen, patients coming in for their routine dental checkups are always offered the chance to combine their visit with a professional dental clean.
Dental cleans are carried out by our highly trained and experienced dental hygienists, and offer an affordable and effective way to further enhance your preventative dental care routine.
You can find out more about what is involved with a dental clean treatment here or call us on (403) 263-0055 to make an appointment.
Why Should You Get A Regular Dental Clean?
1 – Help Prevent Future Cavities
By taking proactive steps with a professional dental clean, your dental hygienist can catch the early signs of tooth decay before they have a chance to cause further damage.
Although brushing, flossing, and using mouthwash at home are highly effective ways to keep cavity-causing bacteria under control, it's hard to reach all areas of the mouth by yourself.
Our dental hygienists have access to the tools and equipment that can reach all areas of your teeth, removing debris and plaque build-up where you otherwise couldn't.
2 – Remove Plaque and Bacteria That Causes Gum Disease
A gradual buildup of bacteria and plaque in hard to reach areas of the mount can eventually go on to cause gingivitis and gum disease if left unchecked.
During your regular dental cleaning, your dental hygienist will remove this built up plaque.
A thorough dental cleaning also pays particular attention to your gum line, removing plaque from the base of the tooth where it joins the gum.
Done on a regular basis, this helps to drastically improve the overall health of your mouth and, in particular, your gums.
3 – Regular Dental Cleaning Can Save You Money
As with everything in dentistry, prevention is always better than the cure.
When it comes to dental cleaning, the small and affordable fees for a dental clean are usually offset by longer term savings that come from reducing your need for more extensive restorative dental treatment in years to come.
By catching dental problems early and taking a proactive approach to dental hygiene, a regular dental clean can help to prevent small problems from becoming larger and more expensive problems.
4 – Maintaining Your Best Smile
Clean, happy, and healthy teeth and gums always make for better smiles.
Keeping on top of your regular dental cleans can keep your teeth and gums looking healthy and drastically improve the quality of your smile, whilst at the same time giving you plenty to smile about.
Getting a Professional Dental Clean in West Calgary
To book your next professional dental clean in West Calgary, make an appointment with one of our highly trained and experienced dental hygienists today. Simply call our clinic on (403) 263-0055 or visit our booking page here to book your appointment quickly and easily online.