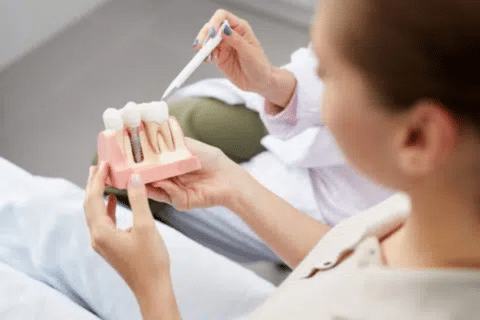 Broken, cracked, and chipped teeth are some of the most common types of dental emergencies we see here at Kherani Dental at Aspen.
Whether it's from a sporting accident, chewing on particularly tough food, or just from general wear and tear, teeth can and do break, crack, and chip.
The first thing you should know is that a broken tooth is usually nothing to worry about.
Over recent years there have been significant advancements in cosmetic dentistry techniques, and modern dental technology now offers a wide range of treatment options for these types of dental emergencies.
While it's obviously never ideal, a broken tooth no longer has to be the end of your perfect smile.
Our team here at Kherani Dental at Aspen consists of some of the most highly sought-after cosmetic dentists in the country, and we have combined decades of experience in helping our patients achieve and maintain flawless smiles.
Today's blog post is aimed at helping you to better understand your cosmetic dentistry options and how to go about repairing a broken tooth in the best way that suits your dental goals.
Dental Crowns For Broken Teeth
Dental crowns are the most common restorative treatment for teeth with minor breaks and chips.
A dental crown is essentially a small piece of porcelain which is shaped and colored to match your existing teeth perfectly.
Your dentist will prepare your tooth by first examining it to ensure it is healthy enough to support a dental crown.
Once that is confirmed, your dentist may need to reshape the remaining tooth slightly to ensure that the new crown has a secure surface to be attached to. Chipped and broken teeth will rarely break evenly, and this is your dentist's chance to smooth the edges and points of your remaining tooth to ensure the best possible fit for your new crown.
Moulds are then taken, and your dentist will carefully match the exact shade of white to match your surrounding teeth.
Taking the time to match the colors properly means that your new dental crown should be indistinguishable from your regular teeth, leaving you with a perfect smile once again.
Dental Implant Replacements For A Broken Tooth
Sometimes a broken tooth can require a more involved treatment.
Dental implants are usually recommended when the break in the tooth is such that the remaining tooth would not effectively support a dental crown.
Sometimes this is because the underlying tooth has decayed, and sometimes it is because the break in the tooth has exposed too much of the inner tooth.
A dental implant involves the extraction of the remaining piece of the tooth, and then the fitting a full artificial tooth in its place.
As with a dental crown, implants are moulded and colored to flawlessly match your existing natural teeth, leaving you with a perfect smile and an almost undetectable tooth implant.
Do You Have a Broken Tooth?
Like all dental emergencies, broken teeth have a habit of happening at the worst possible times.
Here at Kherani Dental at Aspen, we always keep a range of emergency dental appointments available for our patients.
To make an appointment to talk to one of our highly experienced cosmetic dental specialists, please call the Kherani Dental at Aspen team today at (403) 263-0055 to make an appointment.