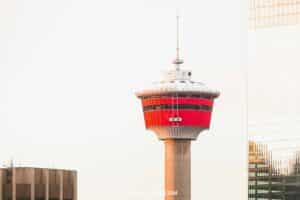 The Calgary Tower is a 191-meter-tall observation tower located in downtown Calgary, Alberta, Canada. It was opened in 1968 and quickly became a prominent feature of the city's skyline. The tower is a popular tourist attraction, offering visitors stunning views of the city and the surrounding mountains from its observation deck. The tower also features a revolving restaurant, which provides a unique dining experience while offering panoramic views of the city.
The design of the Calgary Tower is unique and iconic. It's is shaped like a giant oil derrick, paying tribute to the city's history as a center for the oil and gas industry. The tower's structure is made of steel and concrete, and its distinctive red and white colors make it a recognizable landmark in the city. It also features an impressive glass floor, allowing visitors to look down on the city from a thrilling perspective.
The Calgary Tower has undergone several renovations and upgrades over the years, ensuring that it remains a top attraction in the city. In 2005, the tower underwent a major renovation that included the addition of new elevators, a glass observation deck, and a state-of-the-art LED lighting system. Today, the Calgary Tower continues to be a popular destination for tourists and locals alike, offering unparalleled views of the city and a unique dining experience.
History of the Calgary Tower
The Calgary Tower has a rich history dating back to the early 1960s. It was originally conceived as part of a plan to revitalize downtown Calgary and attract more tourists to the city. Construction of the tower began in 1967 and was completed in just 15 months, opening to the public in June of 1968. At the time of its opening, the Calgary Tower was the tallest freestanding structure in Canada, and it quickly became a symbol of Calgary's progress and ambition.
Over the years, the Calgary Tower has played an important role in the city's history and development. It's been the site of numerous important events, including the lighting of the Olympic flame during the 1988 Winter Olympics, and it has been a popular spot for tourists and locals alike. Today, the tower is an important landmark and a must-visit destination for anyone interested in the city's history and culture.
Visiting Calgary soon? Read for more about the Heritage Park, another popular local landmark!
About Kherani Dental
Experience modern and painless dental services at Kherani Dental, located in Aspen. Our team combines artistic touch with exceptional dental care to bring out the best smiles for the people of Calgary. Whether you need dental services for yourself or your family, our trusted and comprehensive Calgary dental services can cater to your needs. Don't hesitate to reach out to us today and discover how we can help you achieve radiant and healthy smiles.
Calgary Tower Information
Address: 101 9 Ave SW, Calgary, AB T2P 1J9, Canada
Hours: Open ⋅ Closes 9 PM
Updated by this business 8 weeks ago
Phone: +1 403-266-7171
Height: 517′
Construction started: February 19, 1967
Opened: June 30, 1968
Architects: WIlliam G. Milne, Albert Dale
Province: Alberta
Owner: Aspen Properties Ltd