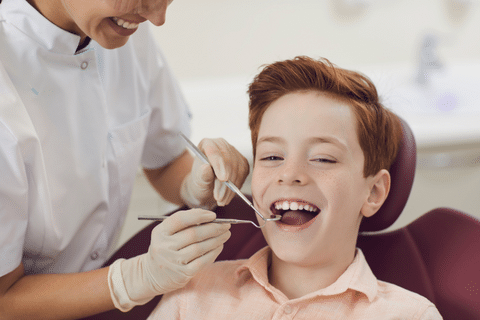 While the world continues to adapt to the new reality of living with COVID-19, many patients are now starting to ask the question – can I visit the dentist again yet, and is it safe for me to do so?
First of all, it's important for us that you know how seriously we are taking this pandemic here at Kherani Dental at Aspen.
Our commitment and dedication to our local Calgary community and our new and existing patients alike remains, as ever, our absolute priority.
With that being said, we are excited to be resuming all of our regular dental services here in Calgary and to welcome back all of our valued patients as we have safely adapted our practices and procedures.
Can I Visit The Dentist During COVID-19?
Yes!
We are following strict social distancing protocols here at our Calgary dental practice, and all patients must wait outside the clinic or in their cars in order to avoid unnecessary proximity to others in the reception area.
In addition, you must have an appointment and pass our health screening process at the front door before you will be permitted entry to the clinic.
If you have recently returned from travels out of town, you will not be permitted entry to the clinic until you have completed the recommended isolation time of 14-21 days.
Aside from these enhanced preventative protocols, our clinic is open and appointments are available for new and existing patients.
What Dental Services Are Available In Calgary During COVID-19?
Following a successful soft reopening in June, Kherani Dental at Aspen is now open for all regular dental appointments once again.
All dental services including teeth whitening and dental cleanings as well as routine dental checkup appointments are now available, and we are working hard to contact those of our patients who have had appointments cancelled during the COVID-19 crisis to reschedule their appointments as soon as possible.
Is It Safe To Visit The Dentist?
As you would expect, we have taken a number of steps to significantly enhance our already very strict hygiene routines and procedures for the protection of our staff, our patients and our community. You can read more about the specific health and safety measures we are taking in our dedicated COVID-19 FAQ here.
Whilst we are eager to resume servicing our community once more, we would not be doing so unless we were confident we could do it safely. Our patients' safety and health is our number one priority.
Some of our new safety measures may seem like a lot, and it's true that we continue to go beyond the recommendations set out by the Alberta Dental Association, however we firmly believe that by taking strong action we can do our part to help prevent the spread of COVID-19 in our community.