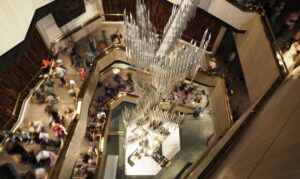 The Glenbow Museum in Calgary, Canada, is a world-class museum that showcases art, culture, and history. The museum's extensive collection includes over a million artifacts, art pieces, and documents related to Western Canada's history, Indigenous peoples, and contemporary art. Visitors can explore the museum's many exhibits and galleries, including a dedicated space for Indigenous art, a Western Canadian history exhibit, and a collection of modern and contemporary art.
One of the highlights of the Glenbow Museum is its vast collection of Indigenous art and artifacts. The museum works closely with Indigenous communities to showcase their cultural heritage and promote understanding and respect for their traditions. The museum's Indigenous gallery features over 1,400 works of art, including traditional and contemporary pieces, as well as artifacts and clothing.
In addition to its permanent collections, the Glenbow Museum also hosts many temporary exhibitions and events throughout the year. The museum's programming includes workshops, talks, tours, and cultural events that engage visitors and promote learning and understanding of art and culture. Whether you're a history buff, an art lover, or just looking for a fun and educational outing, the Glenbow Museum is a must-visit destination in Calgary.
History of the Glenbow Museum
The Glenbow Museum was founded by Eric Harvie, a prominent businessman, and philanthropist who was passionate about collecting art and artifacts related to Western Canada's history. Harvie began his collection in the 1930s and spent decades amassing a vast array of items, including paintings, documents, photographs, and Indigenous art and artifacts.
In 1966, Harvie donated his collection to the people of Alberta, and the Glenbow Museum was officially established. The museum opened its doors to the public in 1967, and over the years, it has expanded and evolved to become one of Canada's premier cultural institutions. Today, the Glenbow Museum is home to an extensive collection of art, culture, and history, with over a million items that tell the story of Western Canada and its people.
Want to learn more about Calgary? Click here to learn about Prince's Island Park, another popular local landmark!
About Kherani Dental
Kherani Dental at Aspen provides comprehensive dental services in a modern, enjoyable atmosphere. We blend art with dentistry to create radiant smiles for the people of Calgary. If you're looking for a dentist you can trust for the whole family, contact us today to learn about our Calgary dental services.
WinSport Information
Located in: Calgary TELUS Convention Centre
Address: 130 9 Ave SE, Calgary, AB T2G 0P3, Canada
Phone: +1 403-268-4100
Founder: Eric Harvie
Founded: 1966
Province: Alberta
Director: Nicholas R. Bell
Number of visitors: 148,668 (2019)
Public transit access: City Hall C-Train station