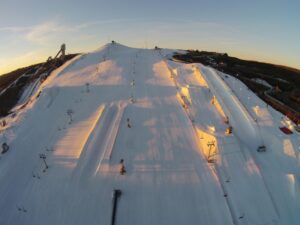 WinSport is a year-round sports and recreation destination in Calgary, Canada. The facility offers a wide range of activities, including skiing, snowboarding, skating, hockey, mountain biking, and more. Visitors can take advantage of the park's state-of-the-art facilities and equipment, as well as expert coaching and instruction for both beginners and experts!
One of the highlights of WinSport is the Canada Olympic Park, which hosted the 1988 Winter Olympics. Visitors can explore the Olympic legacy and learn about the history of the games at the park's museum. The park is also home to many other attractions, including a zipline, bobsleigh, and luge track, and mini-golf course. In the winter, the park offers skiing and snowboarding on a variety of runs, as well as ski jumping and other winter sports.
History of Winsport
Following the success of the 1988 Winter Olympics, the Olympic facilities were transformed into a year-round sports and recreation destination, now known as WinSport. The park has undergone significant renovations and expansions over the years, with the addition of new facilities and activities. Today, WinSport is a world-class facility that attracts visitors from around the globe and continues to play an important role in the development of Canadian athletes.
Want to learn more about Calgary? Click here to learn about the Glenbow Museum, another popular local landmark!
About Kherani Dental
Kherani Dental at Aspen provides comprehensive dental services in a modern, enjoyable atmosphere. We blend art with dentistry to create radiant smiles for the people of Calgary. If you're looking for a dentist you can trust for the whole family, contact us today to learn about our Calgary dental services.
WinSport Information
Address: 88 Canada Olympic Rd SW, Calgary, AB T3B 5R5, Canada
Phone: +1 403-247-5452
Province: Alberta
Number of trails: 13
Top elevation: 1,250 m
Lift system: 4 chairlifts, 4 magic carpet
Skiable area: 0.15 sq mi